The 2016 Annual Scientific Meeting of Life Sciences Institute (LSI), Zhejiang University has been successfully held on Jan 17-18th 2017 in Zijingang hall, Alumni Building. It was the second annual meeting of LSI since 2016. The meeting covered a broad spectrum of cutting-edge research topics of life sciences, specifically interdisciplinary research areas. During the meeting, the Institute leadership and faculty members also discussed the future prospect and development plans of LSI.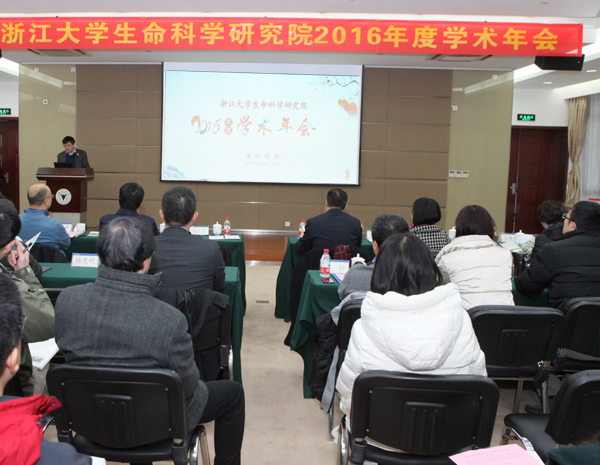 The grand opening ceremony of the Annual Meeting was hosted by Dr. Xin-Hua Feng, the director of LSI in the morning of 17th. Dr. Yonghua Song, the Vice President of Zhejiang University, delivered the opening speech. More than 200 faculty members and students from various institutions on- and off-campus joined the ceremony, including School of Medicine, College of Life Sciences, Translational Medicine Research Institute, Tumor Research Institute of Shanghai Jiaotong University. Staff members from various functional departments also attended the ceremony, including Sci-Tech Academy, Development and Planning Office, International Relations, and Propaganda.
President Song highly praised the outstanding achievements of LSI since its establishment. He pointed out that as LSI starting its second 5-year developmental phase, all the faculty members and the students from LSI have worked together and created gratifying results. President Song also confirmed that Zhejiang University would continue to support the rapid development of LSI, hoping LSI would help to promote Zhejiang University for a world-renowned university.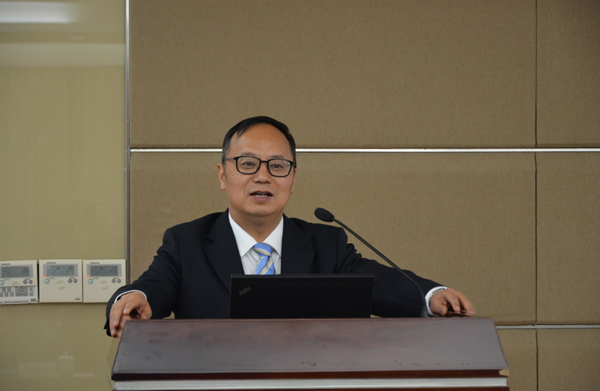 Director Xin-Hua Feng also delivered the 2016 Annual Report of LSI. He introduced the progress of LSI in 2016 including faculty recruiting, scientific research, graduate education, core facilities, and academic outreach. Director Feng also talked about the future plan of LSI in 2017. He concluded that LSI would continue to focus on the recruitment of outstanding talents and the cultivation of future scientific leaders. Meanwhile, LSI would further consolidate the direction of scientific research, exploring the forefront of significant research.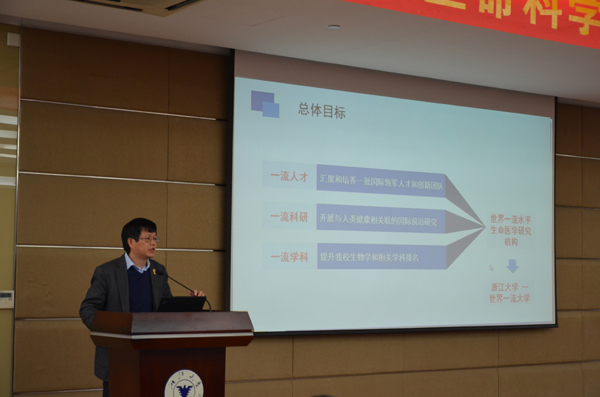 At the annual meeting, Prof. Ruiming Xu, deputy director from Institute of Biophysics, Chinese Academy of Sciences, Prof. Feng Shao, Member of China Academy of Sciences and senior investigator from National Institute of Biological sciences, Prof. Guoliang Xu, Member of China Academy of Sciences and Shanghai Institutes for Biological sciences gave invited talks. Prof. Jun Chen from School of Life Sciences, Prof. Wei Liu from School of Medicine, and 21 PIs from LSI presented their latest scientific progress.
During the annual meeting, LSI inaugurated its Annual Awards. In recognition of individuals and groups over the past year that contribute to the scientific research, scientific service, and outstanding work performance, five awards were set up: "Scientific Research Award", "Scientific Research Contribution Award", "Laboratory Safety Award", "Excellent Staff Award" and "Loyalty Award". The award ceremony was hosted by Prof. Sheng Ye.
Prof. Hengyu Fan and Prof. Pinglong Xu were the recipients of "Scientific Research Award". "Scientific Research Contribution Award" winners were Prof. Xiangwei He and Prof. Sheng Ye. "Laboratory Safety Award" winners were Prof. Li Shen's laboratory and Prof. Yongqun Zhu's laboratory. Dr. ShuChen Gu, Ms. Guiyang Fan, and other 9 staff won the "Excellent Staff Award". Prof. Xin-Hua Feng, Prof. Jun Huang, and other 12 faculty and staff members were the recipients of the "Loyalty Award". Ms. Xiaoyun Zhu, Deputy director of ZJU's Human Resources Office and the director of Talent Recruitment Office, and Mr. Xingqi Zhang, the Laboratory and Equipment Management, Director Xin-Hua Feng and related PI awarded the winners' honorary certificates.


During the annual meeting, about 30 scientific presentations were delivered, topics spanning across immunology, structural biology, developmental biology, cell biology, and so on. LSI's annual meeting offered a great platform for quality and interdisciplinary scientific exchanges for the faculty members and students of Zhejiang University.