Prof. Junfang Ji's group published a research article on Cancer Research entitled with "miR-192-5p silencing by genetic aberrations is a key event in hepatocellular carcinomas with cancer stem cell features" on xx. xx 2018. This article revealed that miR-192-5p and its regulatory pathway was significantly abolished in multiple groups of HCC expressing high levels of CSC markers, which may represent a key event for hepatic carcinogenesis.
Various cancer stem cell (CSC) biomarkers have been identified for hepatocellular carcinoma (HCC), but little is known about the implications of heterogeneity and shared molecular networks within the CSC population. Through miRNA profile analysis in a HCC cohort (n=241) for five groups of CSC+ HCC tissues, i.e., EpCAM+, CD90+, CD133+, CD44+, and CD24+ HCC,they identified a 14-miRNA signature commonly altered among these five groups of CSC+ HCC. MiR-192-5p, the top ranked CSC-miRNA, was liver -abundant and -specific and markedly downregulated in all five groups of CSC+ HCC from two independent cohorts (n=613). Suppressing miR-192-5p in HCC cells significantly increased multiple CSC populations and CSC-related features through targeting PABPC4. Both TP53 mutation and hyper-methylation of the mir-192 promoter impeded transcriptional activation of miR-192-5p in HCC cell lines and primary CSC+ HCC. This study reveals the circuit from hyper-methylation of the mir-192 promoter through the increase in PABPC4 as a shared genetic regulatory pathway in various groups of primary CSC+ HCC. This circuit may be the driver that steers liver cells toward hepatic CSC cells, leading to hepatic carcinogenesis.
In summary, this study has revealed a shared genetic regulatory signaling pathway (mir-192 promoter hyper-methylation/ TP53 mutation/ reduced miR-192-5p/ increased PABPC4) in five different groups of CSC+ HCCs. Due to the nature of TP53 mutation as an early event in HCC, the activation of this pathway may allow a sub population of hepatocytes to obtain the tumor initiation ability, leading to HCC development. These findings improved our understanding on CSC heterogeneity, and elucidated the potential role of miR-192-5p in early diagnosis and/or the molecular therapeutic target for HCC patients.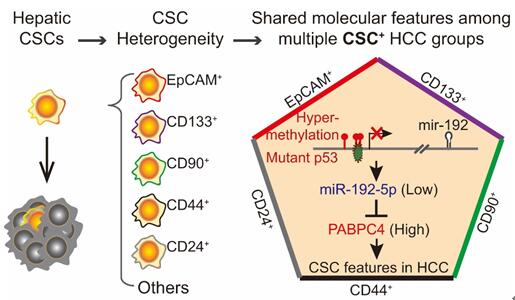 Figure 1. miR-192-5p silencing is a key event in multiple groups of CSC+ HCCs
Dr. Yuanzhuo Gu and Dr. Xiyang Wei in Prof. Junfang Ji's group, Dr. Yulin Sun and Dr. Hongjun Gao are the co-first authors. Prof. Ji is the corresponding author of this article. This work was supported by National Natural Science Foundation of China, the Fundamental Research Funds for the Central Universities in China, and the Thousand Young Talents Plan of China. The study was also supported in part by funds from National Cancer Institute.
Links:http://cancerres.aacrjournals.org/content/early/2018/12/07/0008-5472.CAN-18-1675